His Majesty grants audience to Japanese Imperial Family
August 19, 2019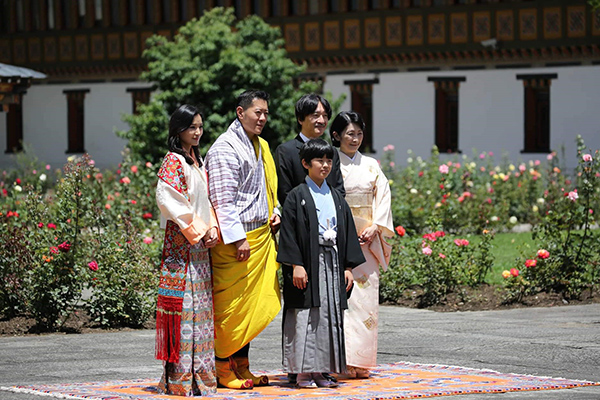 His Majesty The King and Her Majesty The Gyaltsuen granted an audience to Their Imperial Highnesses Crown Prince and Crown Princess Akishino and Prince Hisahito of Japan at the Golden Throne Room of the Tashichhodzong this morning.
The Imperial family is in the country for 10 days on the invitation of His Majesty the King.
The Imperial family were ushered to the Golden Throne Room in a traditional Chipdrel Procession. Chipdrel is a ceremonial procession of welcome for an honoured guest to ensure the most auspicious beginning to an important event.
His Majesty The King accompanied by her Majesty The Gyaltsuen granted an audience to the Imperial Family.
Following the audience, The Japanese Imperial Family were invited to lunch at the Lingkana Palace.
His Imperial Highness The Crown Prince Fumihito is the younger son of the former Emperor of Japan, Akihito and Empress Michiko, and married Her Imperial Highness Crown Princess Kiko in 1990. His Imperial Highness Prince Hisahito is the youngest and the only son of Crown Prince Fumihito and Crown Princess Kiko.
This is the first overseas trip for Prince Hisahito who is currently on summer holiday from his Junior High School.
Courtesy:BBS