International Tiger Day
Jul 29, 2019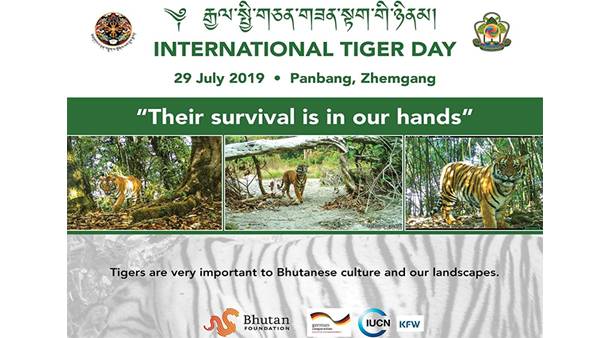 The International Tiger Day this year, 2019, is being observed in Panbang Pry School, Zhemgang. The event is graced by the Zhemgang Dzongdag with other relevant stakeholders and partners. The theme this year is "their survival is in our hands".
The Global Tiger Centre (GTC), in collaboration with the Bhutan Foundation, has also planed a series of activities for the day. During the daylong event, The GTC and Bhutan Foundation will organize art and story writing competitions among the students on a theme "Tigers and my community".
The communities of Norbugang under Nganglam and Panbang will also join the celebrations to create awareness on the importance of Tiger conservation.
The celebration is being marked by various cultural entertainments and a new tiger theme song will also be launched later today. Leading the main event at Panbang, yesterday, the ex-poachers under the " hunter to hermitage" programme cleaned the water discharge pond and initiated habitat improvement for tigers and other wildlife. The event is being organized by GTC together with Royal Manas National Park and Zhemgang Forest Division with Financial support from the Bhutan Foundation.
Courtesy:BBS